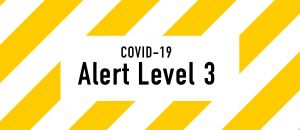 Dear Parents,
As a result of the new outbreak of COVID-19 in the community, our school will be closed under Alert Level 3.  For the remainder of this week, school staff will be working from home apart from those cleaning the school premises.
Teachers will be contacting children online where possible and maybe contacting you by telephone. We hope that this will only last for this week but are awaiting advice from the Ministries of Health and Education. We will update the information on our website as we get more information.
At this stage we are planning for a return to online learning next week should the Level 3 Alert be extended and also to implement our Level 2 procedures should we be able to reopen next week.
Please follow Health Care advice so that we can all get through this safely and get back to a more normal life.
Ngā mihi,
R Maddren
Principal

---
FREE N4L safety filter for all students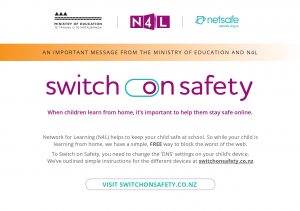 Parents can set up the filter on their child's learning devices from home. Clear instructions on how to do this can be found at switchonsafety.co.nz.
The free N4L safety filter (by global cyber-security leader, Akamai) blocks websites containing known cyber threats like phishing scams, malicious content and viruses, while also protecting children from content inappropriate for young eyes (like adult sites).
Please remember that technology is not a silver bullet and the filter is best used in combination with Netsafe's online parent safety toolkit.
Ngā mihi,
The Ministry of Education, N4L and Netsafe
Your Online Safety Team